FAST, ACCURATE SCENE DIAGRAMS
Map360 Sketch provides 2D viewing for a streamlined approach. You can import points, UAV images, an Ortho Slice, Bing Maps, or use manual measurements to create basic diagrams and deliverables.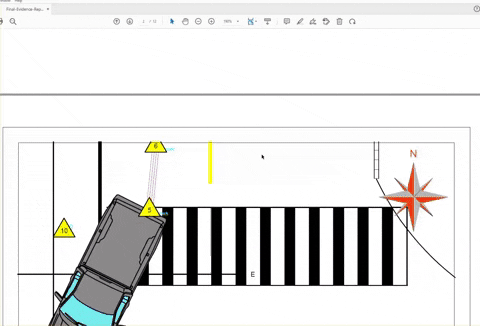 WHAT EQUIPMENT DO YOU HAVE?
Map360 Sketch provides an entry-level solution no matter what hardware, if any, you are starting with.
Manual Measurements
Minimal Equipment? Need The basics?
The ideal solution to create diagrams, pre-incident plans, and other courtroom exhibits that are compelling and easy to understand. Map360 Sketch is easy to use, quick to learn, and budget friendly; a perfect entry level reconstruction and diagramming software!
Map360 Sketch provides 2D viewing only. Users can import points, UAV images, an Ortho Slice, Bing Maps, or use manual measurements to create basic diagrams and deliverables. All 2D drawing and editing tools are available but there are no analysis tools included with sketch.
The Process
Step 1
Learn how to use an aerial image from Google or Bing, scale and create an image layer in Map360
Step 2
Learn how to translate your field-taken measurements and enter them in your diagram with our Baseline/Offset tool
Step 3
Learn how to add 2D symbols to your drawing (bikes, cars, etc).  Also add evidence markers and attached additional pictures of evidence
Step 4
Learn how to create and publish a PDF of your drawing and publish the final evidence report
Drone
Need an aerial software solution?
Many agencies are now capturing outdoor scenes with drones. Map360 Sketch can easily work with geo.tifs created in Pix4D Mapper or Lecia Infinity.
It's as simple as adding an attachment to an email, accept we are attaching the image and the corresponding world file to its own layer in Map360. This allows you to bring in images with the correct scale and orientation. You can say goodbye to human error when scaling images manually. Also, If you use GPS data while collecting your points, it will be accurately positioned on top of the image.
The Process
Step 1
Import orthorectified image with its corresponding world file
Step 2
Insert vehicles from the Canadian Vehicle Specs Database
Step 3
Trace fluid path and debris and add hatching
Step 4
Add dimensions, leaders, labels, and a scale bar
Step 5
Insert evidence markers and legend
Step 6
Export diagram and create evidence report
Ortho Slice
2D SCALED DIAGRAM FROM A POINT CLOUD ORTHO-SLICE
Using a laser scanner allows you to quickly capture every detail of any scene in the form of an accurate, measurable point cloud that provides complete transparency and an irrefutable source of truth. The point cloud can be used as the basis for a variety of compelling, immersive exhibits. But often you need to start with simple 2D scaled diagrams. What's the fastest, easiest way to deliver these drawings?
Quickly and easily create an orthoimage slice from the scan data and use the slice in Map360, scene diagramming software, to create a diagram. Layers can be turned on and off to show labels, evidence, measurements and other details as needed.
The Process
Step 1
Bring your point cloud data that you have collected at the scene into Leica Cyclone REGISTER 360
Step 2
Create the commonly used 2D scale diagram by generating an ortho image by slicing the point cloud
Step 3
Easily import your ortho slice into Map360 in a couple quick commands
Step 4
Analyze and diagram your ortho slice
Step 5
Create a scale deliverable with one of our template to share with others
What's Next?
We have many options depending on your familiarity with Map360 Sketch. Either choose to jump in with a 30-day demo or take a free 20-min course to see if Map360 is the right fit for your agency. Have any questions? Please contact us!