Dec. 19, 2018 – One of the nation's leading crime laboratories, the Houston Forensic Science Center (HFSC), has announced that it will voluntarily adopt standards approved by the Organization of Scientific Area Committees for Forensic Science (OSAC). Those standards define minimum requirements, best practices, scientific protocols and other guidance to help ensure that the results of forensic analysis are reliable and reproducible.
OSAC, which is administered by the National Institute of Standards and Technology (NIST), works to strengthen the nation's use of forensic science by facilitating the development of technically sound standards and promoting their adoption by the forensic community. All standards on the OSAC Registry have passed a review of technical merit by forensic practitioners, academic researchers, statisticians and measurement scientists.
"By adopting these standards, HFSC has demonstrated their commitment to providing the highest quality forensic science services," said Mark Stolorow, director of OSAC affairs at NIST.
HFSC joins the Kentucky State Police Central Forensic Laboratory and the Georgia Bureau of Investigation Division of Forensic Science as early adopters of standards on the OSAC Registry.
>> RELATED: HOW GBI RAISED THE BAR FOR OFFICER-INVOLVED SHOOTING INVESTIGATIONS
Outside of DNA, there are few discipline-specific forensic science standards that are applied uniformly across the United States. Instead, the nation's 400-plus crime labs follow general laboratory and other standards that vary from one jurisdiction to another.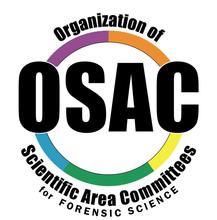 OSAC is helping to fill that gap with uniform, high-quality standards. The organization's roughly 560 members have expertise in 25 specific forensic disciplines, as well as general expertise in scientific research, measurement science, statistics, law and policy. To date, 12 standards have been posted to the OSAC Registry, and more than 200 are in the pipeline.
OSAC was created in 2014 by NIST in partnership with the Department of Justice. Although NIST provides administrative support to the organization, most OSAC members work in crime labs, research centers and other institutions across the nation.
Peter Stout, CEO and president of HFSC, said that he and his staff strive to constantly improve the quality of services they provide to Houstonians. "Adopting these standards, the result of years of work by the nation's top forensic scientists, is the logical next step."
For more information about how NIST is working to strengthen forensic science in the United States, visit its Forensic Science Program Page.
To learn more about NIST, visit www.nist.gov.
Contact us today to explore solutions to your agency's documentation and mapping needs.